Upcoming I-90 Ramp Closures and Weekend Work
Body
This week, crews will continue to pour the station's sound walls, install communication fiber and move barrier to prepare for future station construction activities. This work will include both short- and long-term daily closures and limited daytime work on Saturday, Dec. 9. Please see below for more information.
Friday December 8
On Friday Dec. 8, crews will extend barrier and install temporary striping on the Island Crest Way Westbound HOV on-ramp. The closure will take place during off-peak hours from 9 a.m. – 3 p.m. Drivers can use the West Mercer Way and 76th Avenue SE westbound on-ramps during this closure.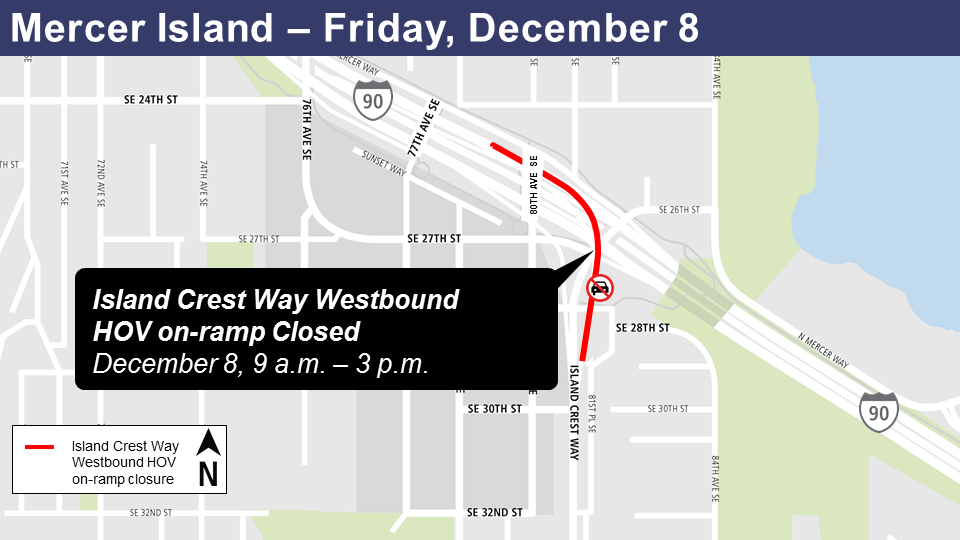 Saturday December 9
Saturday Dec. 9, Sound Transit's contractor will continue to install communication fiber to support the future Mercer Island station. To safely complete this work, crews will close the 80th Avenue off-ramp and a portion of the I-90 East- and Westbound HOV lanes from 9 a.m. – 3 p.m. Drivers will be able to use the Island Crest Way and East Mercer Way westbound off-ramps.
Additional I-90 HOV lane closures will occur near the work zone at Island Crest Way and the East Channel Bridge. Please follow directional signage and flaggers to safely reach your destination.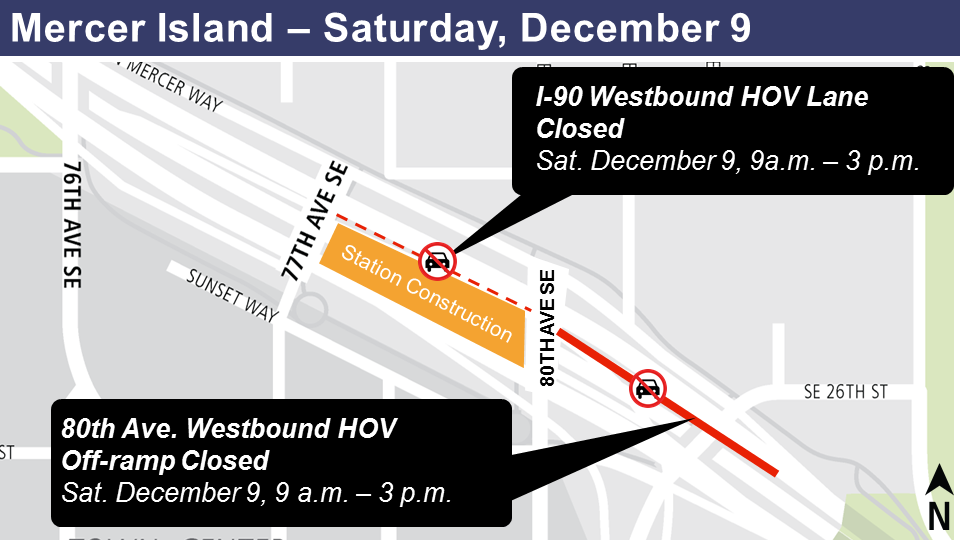 Upcoming Closures
Monday December 11 – Wednesday January 31
Beginning as early as Monday, Dec. 11, the Island Crest Way Eastbound HOV off-ramp will continue to close during daytime, off-peak hours as crews continue to form and pour concrete station walls. This work will prepare for future head house and platform construction. This closure will occur Monday through Friday, 9 a.m. – 3 p.m. and is anticipated to last through January 2018. Drivers can use the West Mercer Way and 77th Avenue SE eastbound off-ramps during this closure.