Weekend work – Saturday Jan. 20
Body
To accommodate the future Mercer Island station, contractors working for Sound Transit will need to relocate and reconnect utility lines along I-90. These lines provide service for lighting inside the East and Westbound Island Crest Way ramps and tunnels. To safely do so, crews will close the following ramps on Saturday, Jan. 20, from 7 a.m. – 3 p.m.:
Eastbound Island Crest Way HOV off-ramp
Eastbound Island Crest Way general purpose off-ramp (Exit 7B)
Westbound Island Crest Way HOV on-ramp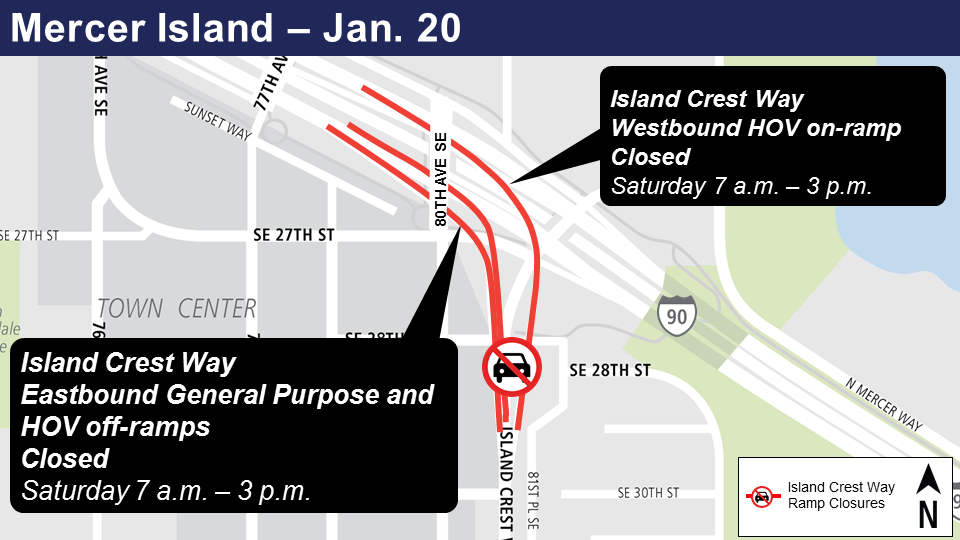 Intermittent lane closures on Westbound I-90 will also occur during this time. Drivers can use the Eastbound West Mercer Way, 77th Avenue and East Mercer Way off-ramps and the Westbound East Mercer Way on-ramp, 80th Avenue HOV on-ramp, and the West Mercer Way on-ramp.
Update: Island Crest Way Westbound HOV on-ramp daily closure begins Jan. 29
The Island Crest Way Westbound HOV on-ramp, previously planned to close on Jan. 8, has been postponed and is scheduled to close daily beginning Monday Jan. 29 until March 2. This ramp will be closed daily, Monday-Friday, 9 a.m. to 3 p.m. Drivers may use the West Mercer Way and 76th Avenue Southeast westbound on-ramps during this closure.