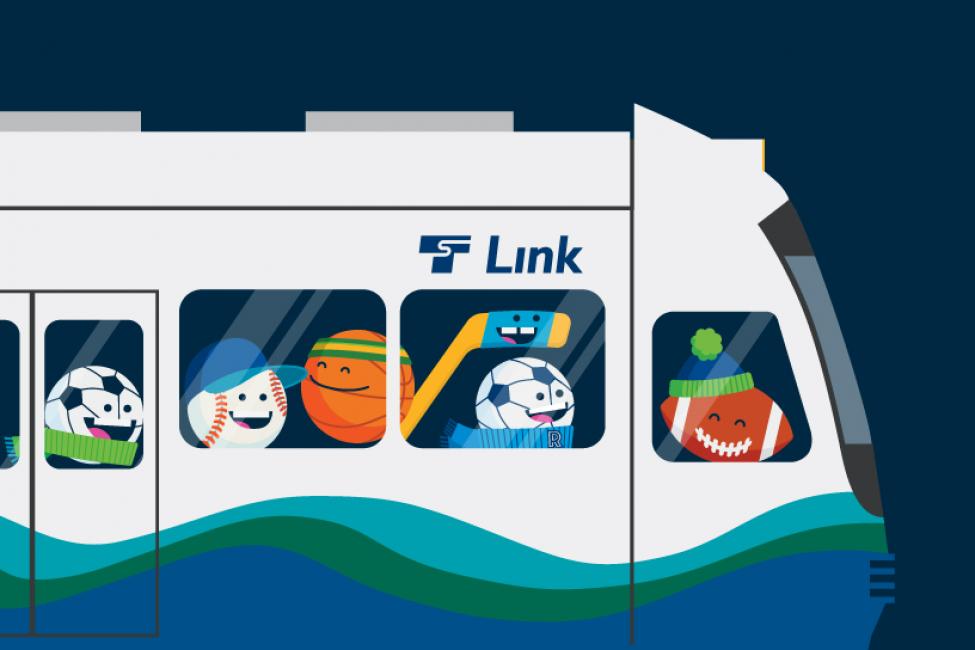 GAME ON!
Why fight traffic when you can take Sound Transit to cheer on your favorite team or rock out with your favorite band?  It's an easy, affordable and reliable way to move around the region – and it doesn't just have to be for your commute.
If you're a sports fan, riding Link or the bus is a great way to get to the game. Sounder can also be a great option when special event trains are running.
For other events, it's easy to plan out your ride with our trip planner.
Just remember to expect more crowds than usual on game or event days and use an ORCA card or the Transit Go Ticket app to avoid long lines at ticket machines. 
Event destinations
Weekend Sounder Service
It's the weekend. All aboard!
Sound Transit runs Sounder trains from Lakewood and Everett on many weekend days, typically around sporting events or concerts. But you don't have to attend the event to ride the train, take the opportunity to explore Seattle for a few hours without having to drive or find and pay for parking! The train will drop you off at King Street Station in Pioneer Square, and the city is easy to continue exploring by public transit from there.
Just remember to keep track of the game or concert – below we list when the trains depart after each type of sporting event. If the game's estimated end time isn't ideal for your trip, Link light rail or ST Express buses are available options for getting you home.
Sounders FC: Sounder line trains will depart 45 minutes after matches that start at noon and 12:30 p.m. For 1 p.m., 1:30 p.m., and 5 p.m. matches, trains will launch 35 minutes after the match.
Mariners: Sounder lines will depart 35 minutes after all games.
Seahawks: S-line trains will depart 20 and 45 minutes after games. N-line trains will depart 45 minutes after games.
How to pay
The Transit GO Ticket App or pre-loaded ORCA card is the ideal option for skipping lines at ticket vending machines. Download the Transit GO Ticket App and purchase a Day Pass (good for all regional transit, minus the Washington State Ferries, on one calendar day) ahead of time. Don't forget to activate your ticket before getting on the train and show your screen to the fare enforcement officer if asked. If using an ORCA card, remember to tap on and off with your card at Sounder stations.
Park and ride
Free parking is available at all Sounder stations.
Safety around tracks
Please remember Sounder trains share the tracks with freight and other passenger rail service. Only cross tracks at designated crossings, and never cross when the gate is down. Trains can run on any track, at any time, in either direction.
Extended Tacoma Link Service
Sound Transit runs additional Tacoma Link service for certain events such as concerts at the Tacoma Dome Station.
How to pay
Tacoma Link fares continue to be free thanks to funding from the Tacoma Business Improvement Area.