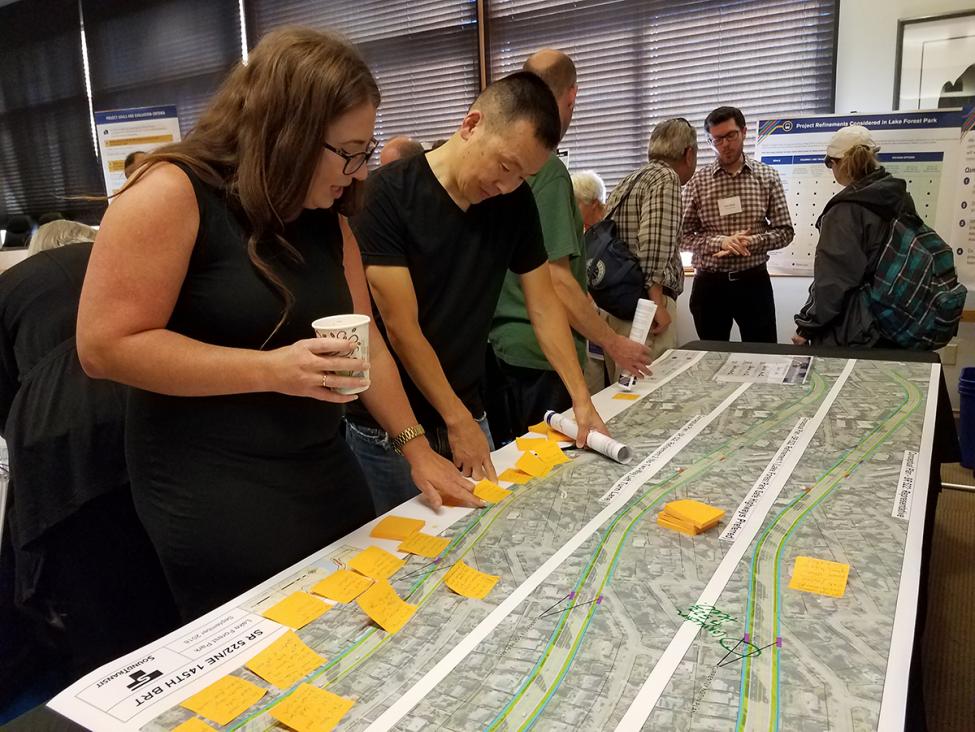 Elected Leadership Group meeting summary
Body
The City of Kenmore recently hosted the SR 522/NE 145th Bus Rapid Transit project's final quarterly Elected Leadership Group (ELG) meeting during Phase 1. A huge thank you to participating members of the public and representatives from Bothell, Kenmore, Lake Forest Park, Seattle, Shoreline, Woodville, and the Washington State Department of Transportation. The ELG representatives regularly review and discuss project information, public input and make recommendations to Sound Transit. The meeting allowed us to present updates on transit integration, community outreach and the upcoming conceptual engineering and environmental review process. 
Relating to transit integration, Sound Transit, King County Metro and Community Transit representatives presented the collaborative approach to addressing potential changes to service along the corridor with the introduction of BRT. The agencies reiterated their commitment to providing a complementary (not duplicative) service that would focus on ease of navigation and transfers for riders. 
Community outreach update 
Between Jan. 28 – Feb. 11, Sound Transit held two in-person drop-in sessions and an online open house where we gathered over 200 community comments from nearly 1,000 visitors. The feedback was supportive of fast, frequent and reliable BRT service, new Business Access and Transit lanes and transit integration. Some commenters voiced concerns about traffic congestion and impacts during project construction. As we transition into conceptual engineering and environmental review, we will continue to gather feedback to ensure the project addresses community interests and concerns whenever possible. View the community feedback summary. 
What's next?
The project team will present the refined project to the Sound Transit System Expansion Committee on April 19, 2019 and look to begin Phase 2, conceptual engineering and environmental review. This differs slightly from the March 2019 timeframe that was previously communicated. Conceptual Engineering and Environmental Review is anticipated to begin in the spring of 2019 and should last approximately one year. Ongoing outreach and communications will continue with property owners, stakeholders and the general public. Members of the ELG will continue to meet during Phase 2 of the project. 
Read about what took place during the first year of project development in the SR 522/NE 145th BRT Phase 1 Executive Summary. 
Thank you for being engaged throughout this planning process. We look forward to continuing to engage with you as we enter the next phase of the SR 522/NE 145th BRT project.