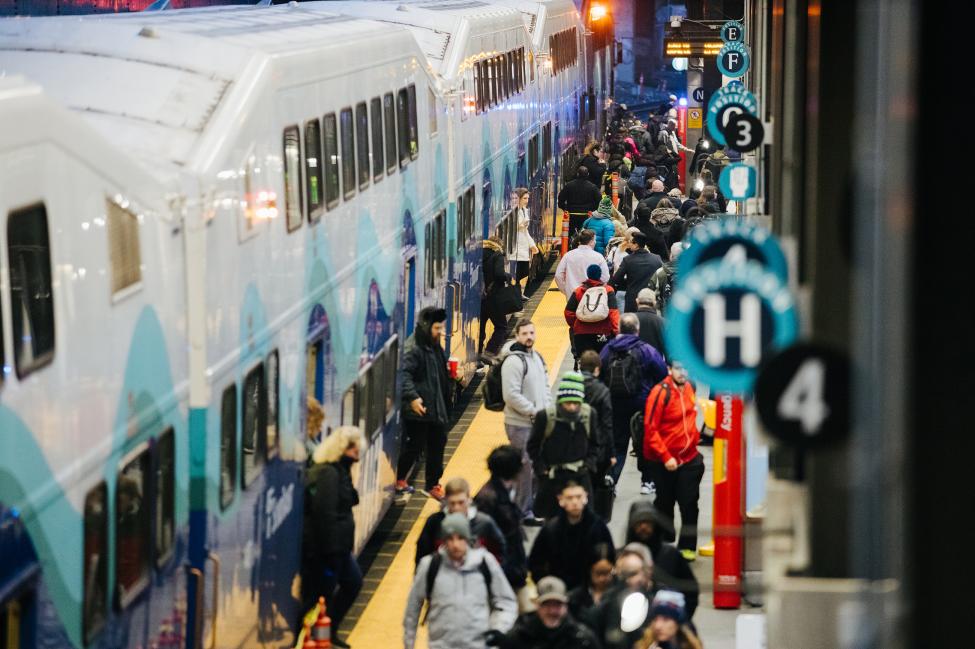 Planning for Sounder South investments
Body
Sounder South service continues to grow in popularity, helping more and more riders each year glide past rising roadway congestion. The service makes it realistic for many people who board both northbound and southbound trains each morning to live and work in places they otherwise couldn't without becoming mired in traffic. The trains now serve more than 16,000 riders each weekday between Lakewood and Seattle, up 4.5 percent in 2018 over 2017. Many riders also take advantage of special weekend trains to and from games and events. 
Work is now well underway to begin expanding parking and make other improvements that increase access to Sounder South in Kent, Auburn, Sumner and Puyallup. And Sound Transit is also beginning important work that will take a longer-range look at how the agency will make room for more people to climb aboard by implementing critical expansions that regional voters funded in 2016. More capacity is coming!
Why Sounder is different
People often ask why Sounder doesn't run all day and every weekend, similar to light rail. The reason is that the railroad tracks Sounder uses between Tacoma and Seattle are owned by Burlington Northern Santa Fe (BNSF) and are heavily used by freight trains as well as Amtrak. Adding trips on Sounder requires careful analysis of freight travel to determine where opportunities exist to add passenger trains to the already crowded tracks and where new tracks may be needed to make room for more passenger trains. Any new trips and infrastructure improvements must be negotiated with BNSF. 
Other factors influencing the availability of new train trips include limited space for train storage, congestion at the busy King Street Station, and limitations on crew shifts. For all of these reasons, Sound Transit and BNSF carefully analyze when new trips can be added, and generally give priority to trips expected to carry the most riders. Although Sound Transit doesn't have the ability add more service with the wave of a magic wand, the good news is that voters have funded upcoming investments that will enable Sounder trains to continue pulling more commuters out of the traffic jams.
Good news: Major investments in Sounder South are coming 
Voters approved the Sounder South Capacity Expansion as part of Sound Transit 3 in 2016. The program includes expanding Sounder platforms to support longer trains (to carry up to 40 percent more people). In addition to longer trains, the program also provides funding to consider running more trains each day and potential station access improvements. Additionally, within the next two decades service will extend further south to Tillicum and Dupont.
Planning
The first step in expanding Sounder South is creating a strategic plan to identify specifics projects, levels of service, and when improvements will be phased in for construction. Planning kicked off earlier this year, with technical analysis of train conflicts, ridership forecasting, and other tasks. 
What's next? 
Public outreach about the strategic plan will begin this summer, where results of the initial analysis will be shared.  You'll have the chance to weigh in on what you consider the top priorities for Sounder. In the meantime, sign up for updates here, or contact us with questions. The strategic plan is expected to be complete in early 2020. Planning for the first round of improvements will begin later that year. Improvements will be constructed in phases, with everything complete by 2036.
Expanding parking and access to the system
While we study longer-term options through the Sounder South Capacity Expansion project, Sound Transit will also continue to advance near-term improvements to parking and other investments that make it easier for people to ride. These include:
Puyallup: Construction starts next year on a new garage and surface lot with approximately 665 spaces, opening in early 2022. Other investments include pedestrian lighting and bike lanes.
Sumner: Procuring city permits and hiring a design/build contractor are the next steps for the new 500-stall garage, opening in 2022. The City of Sumner is moving forward to rebuild the Traffic Avenue/410 interchange and improve sidewalks near the station, both with funding from Sound Transit. 
Other access option: