South Bellevue Park-and-Ride scheduled to close May 30, 2017
Body
When East Link opens in 2023, Eastside commuters will be able to travel from downtown Bellevue to downtown Seattle in 20 minutes. However, the period between construction and opening day will bring challenges and change. We understand changes you make during this transition may be difficult. For the next five years, getting to and from your destination may involve taking two bus trips in the place of one. Or, you may choose to pair your bus commute with another mode such as walking, bicycling or joining a King County Metro VanShare group. As you explore your options, please know Sound Transit is working to expedite the delivery of congestion-free train services and build new light rail stations with more parking. The expansion of light rail and bus service on the east side will be a game changer for our rapidly growing community. Thank you for your patience.
Park-and-ride options on the Eastside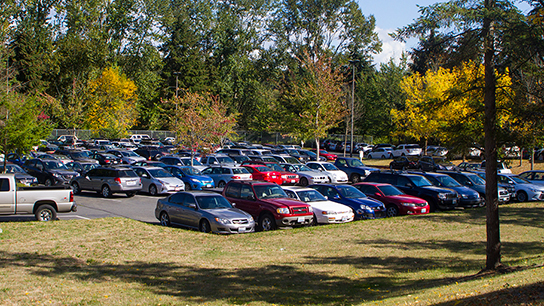 There are over 50 park-and-rides on the Eastside. Visit the King County Metro Park-and-Ride Information page to learn more about existing park-and-ride options.
Sound Transit has opened six new park-and-ride lots served by existing transit service, expanded two lots, and identified lots with available parking. Many of the new park-and-ride lots are closer to the trip origin, but in some cases the trip will now involve a transfer. Sound Transit will continue to explore opportunities to lease park-and-ride lots served by ST Route 550. Find more information about park-and-ride options during East Link construction on the East Link Park-and-Ride Closure page.
Bus service along Bellevue Way SE during East Link construction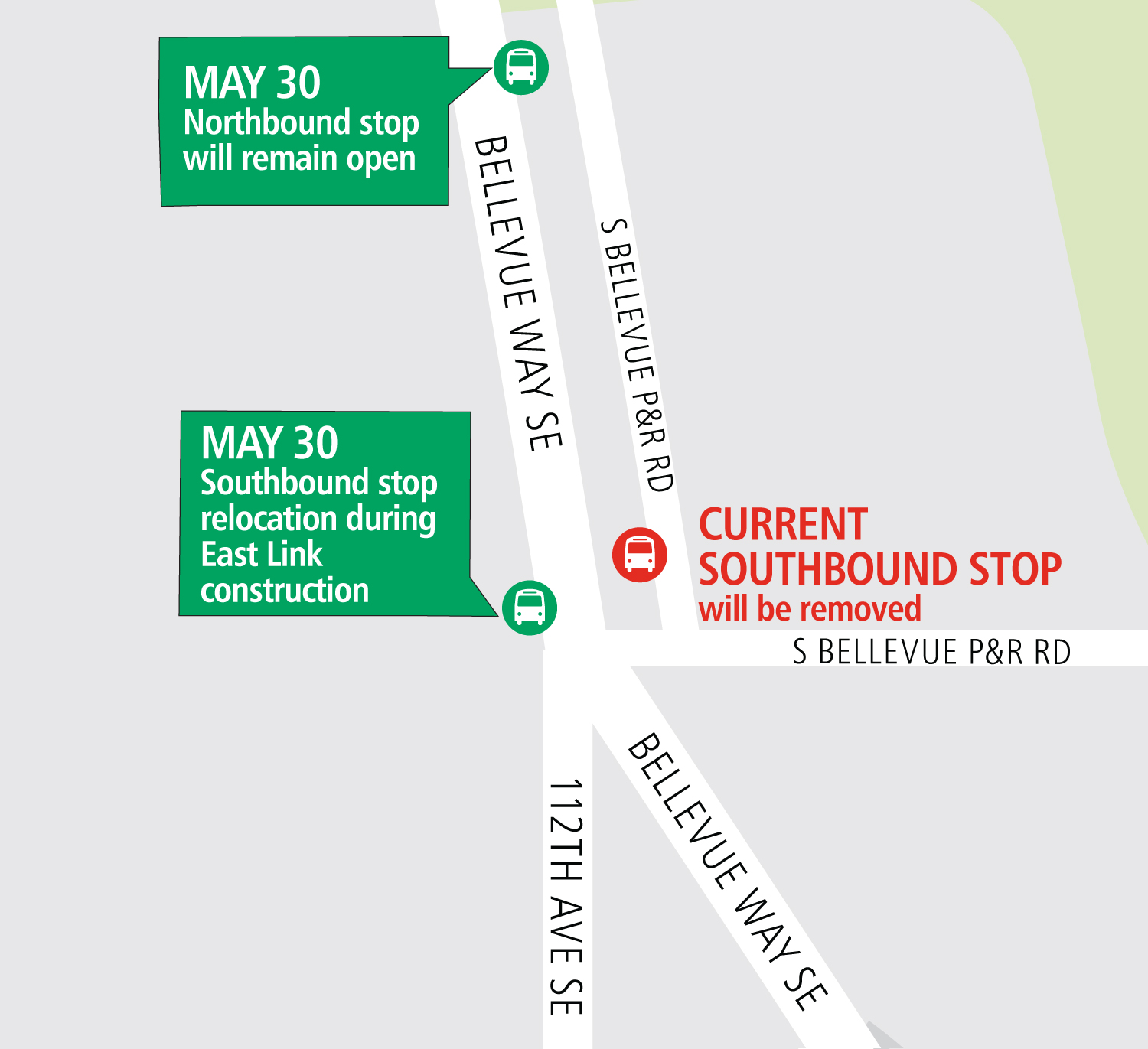 Sound Transit routes 550 and 555/556 will continue to serve stops on Bellevue Way SE adjacent to the South Bellevue Park-and-Ride site during East Link construction. These routes, as well as King County Metro Route 241, will move to new temporary bus stops during construction. The southbound bus stop will be on the west side of Bellevue Way SE, just north of 112th Avenue SE. Northbound buses will continue to serve the existing stop as usual. King County Metro Route 249 began using the new southbound stop in September 2016. Notification will be provided in advance of these bus stop relocations with rider information at the stops and on affected bus routes.
In advance of the closure, transit service has been added and expanded on several Sound Transit Express bus routes.
| Route | Improvement | Effective |
| --- | --- | --- |
| 554 (Issaquah - Seattle) | Added 12 new trips | March 2016 |
| 542 (Redmond - Seattle) | Added new midday service with 20 new trips | March 2016 |
| 541 (Redmond - Seattle) | Added 44 new trips | March 2016 |
| 545 (Redmond - Seattle) | Added 15 new weekday trips | September 2016 |
| 555/556 (Issaquah - Bellevue - Northgate) | Added 4 new weekday trips | September 2016 |
Travel options
Sound Transit, in partnership with King County Metro's Just One Trip program, as well as other local community based programs such as Choose Your Way Bellevue and Go Redmond, is helping you find alternatives to driving alone.
Visit Just One Trip's Resources page for links to help you discover trip options, plan your trip, find ride share partners, and more such as:
King County Metro VanShare
Share a ride from your neighborhood to/from transit, with reserved parking at qualifying park-and-rides and near the Bellevue Transit Center. In advance of the South Bellevue Park-and-Ride closure, King County Metro has reduced the ridership requirement to start a VanShare. Now groups only need three people to get started and King County Metro will cover the fare for the first three months. Each member of the van receives a $25 ORCA or a $25 TranBen voucher good toward transit or future vanshare fare. Learn more and sign up at King County Metro's VanShare page.
Park-and-Ride Permit Parking
Carpool to a participating park-and-ride and get a reserved spot with a monthly park-and-ride carpool permit. Groups of two or more commuters who regularly drive together to catch transit may apply for carpool parking permits. Permits allow participants to park in designated permit parking areas on weekdays during the morning rush hour. Permit costs and eligibility requirements vary depending upon location. Learn more and sign up at Carpool Parking Permit Page.
Plan your trip
Need help planning your commute?
Check out area maps and transportation options at kingcounty.gov/metro.
Call 206-553-3000 to learn more about Sound Transit and King County Metro transit routes.
Plan your bus trip on your computer or mobile phone with Metro Trip Planner app. Get directions, find route maps, schedules, stops, next departures and information about your transit service for trips around the region.
Receive a customized travel plan and alternative trip planning suggestions by completing a Commute Inquiry Form.
Did you know that walking or biking to a bus stop may shorten your commute? Use the trip planner to check out which bus stops are located near you. Learn about bike parking at Sound Transit and King County Metro transit facilities.
Learn about these and other trip options at Just One Trip!
Stay informed
Sound Transit will host a construction open house so you can meet the contractor and learn more about the upcoming construction. Sound Transit will provide information about the South Bellevue Station, construction activities, schedule and travel options. Once scheduled, the open house will be announced through a future newsletter and posted to our online events calendar.
Background
Construction of the 14-mile, 10-station East Link light rail project is under way in downtown Bellevue with work in south Bellevue set to begin this May. Sound Transit will build light rail along Bellevue Way SE and 112th Avenue SE from I-90 to the future East Main Station.
The South Bellevue Station will be located at the current South Bellevue Park-and-Ride site. The station will include bus and paratransit facilities, public art, space for passenger drop-off and approximately 1,500 parking stalls, nearly tripling today's parking capacity. For a detailed look at the light rail route and station designs, visit Sound Transit's East Link page.
One of the first construction activities in the area will be closing the South Bellevue Park-and-Ride. This site will serve as the construction hub for staging equipment and building the light rail station, track and new parking garage.