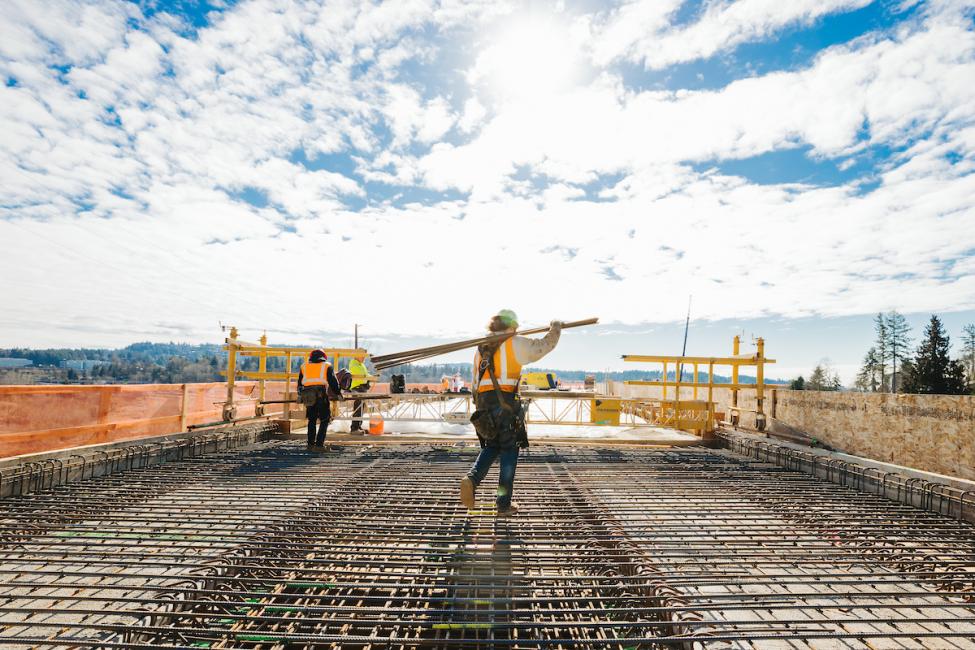 East Link light rail construction passes the halfway mark
Body
In just a few short years, construction of the East Link light rail extension has transformed the Eastside skyline and today is more than 50 percent complete.

And in a few more years, when East Link begins operating as the Blue Line in 2023, it will transform the commutes for thousands of people. 

The East Link extension is 14 miles of new light rail with 10 stations connecting Seattle, Mercer Island, Bellevue and the Bel-Red and Overlake neighborhoods (Microsoft headquarters). 

Since construction began in 2016, almost 6,000 Union workers have put in almost 3 million work hours so far to: 
Excavate a tunnel under downtown Bellevue
Construct 2.86 miles of elevated guideway
Build a new train bridge over I-405 
Install almost a mile of new track and nearly complete the station on Mercer Island
Strengthen the I-90 floating bridge through a process known as post-tensioning


And they're not stopping there.
 
Starting this month crews will begin installing the I-90 track bridge that will enable Sound Transit light rail vehicles to cross the Homer M. Hadley floating bridge, a first anywhere in the world.
 
Later this year, crews will wrap up most of the work on the Mercer Island station, the first East Link station to be completed. 

Other 2019 milestones will include:
Finalizing preparations for Connect 2020, including an extensive public awareness effort for the period of reduced Link service that will occur during this work
Continuing to build key parking facilities at the future South Bellevue, Bel-Red and Redmond Technology stations
Progressing on construction of the new 112th Street Southeast rail undercrossing
Constructing a pedestrian bridge across SR-520 that will provide a direct connection from the future Overlake Village station to the SR 520 trail, the growing Bridle Trails neighborhood and the Microsoft campus
Completing all of the alignment's elevated guideway 
Laying miles of track
By the end of the year, it will be possible to walk the entire 14-mile route on the new guideway where trains will run. 

And in 2023, Link light rail will provide a 24-minute trip between downtown Bellevue and Westlake Station in downtown Seattle. 

Trips from the Judkins Park Station in Seattle's Central District to downtown Bellevue will take just 15 minutes, no matter how bad traffic is on I-90.

Stay up to speed on the latest East Link progress by joining our new East Link Facebook Group where we'll keep the pictures flowing and our construction outreach folks will be ready to answer your questions.

And follow us on Instagram where we also feature regular pictures from the East Link construction sites.