Starting this weekend, Sept. 19-21, we're rolling out our annual service change by adding more frequent Link light rail service leading up to running trains every 8 minutes during peak hours on weekdays.
Some weekend bus schedules will also see tweaks starting on Saturday and by Monday morning we'll also see more Sounder service. 
Here's what's happening in a nutshell:
Link running every 8 minutes during weekday peak hours, every 15 minutes mid day and on weekends and every 30 minutes in the evenings
Two more Sounder south commuter rail trips 

Increased service on Sound Transit Express Route 512 between Everett and Seattle
Check here for details of the changes that may be coming to your route. 
With most continuing to work from home during the COVID-19 pandemic, our overall ridership is down about 80 percent compared to the same time a year ago.
In response, we cut Link light rail service back to run every 20 minutes in the spring and eliminated several Sounder commuter rail trips on the south and north lines.
While we have seen some ridership growth over the past few weeks, we don't expect to be back to pre-covid levels until a vaccine is widely available and major downtown employers return to their offices. 
The additional Link and Sounder trips should help maintain space between riders as essential workers continue trickling back to their workplaces.
Here's the new Sounder south schedule. Because of continued low ridership on Sounder north, we will continue running just two trips a day.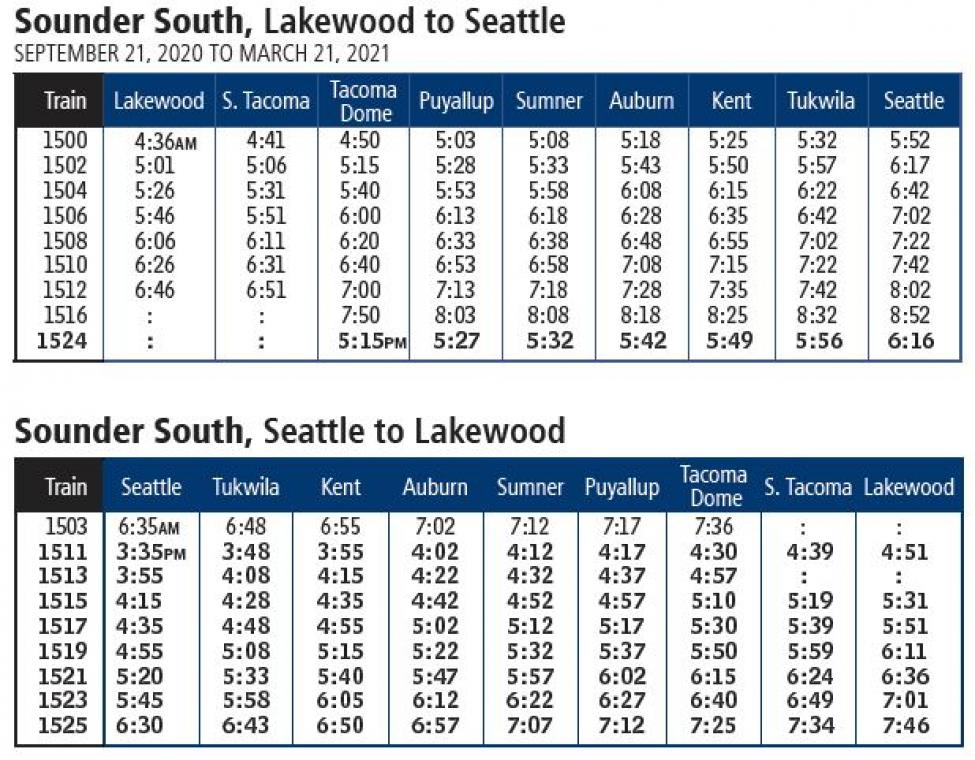 The most exciting and useful part of this service change for many will be the return of real-time arrival information at our Link stations and on your favorite trip planning apps starting Monday! 
Masks will continue to be required when riding our buses and trains. It's an easy way to protect yourself, your fellow riders and the women and men operating our system.
Check here for more details on what we're doing to keep your buses and trains safe.
The changes rolling out this weekend will be the new normal service until March 2021 but we will continue monitoring ridership and public health guidance as we keep rolling into a world unlike anything we've ever seen.
Note - we're doing system upgrades on Link this Saturday and Sunday (19th, 20th) as part of the preparations for extending the line to Northgate this weekend and there will be no trains between University of Washington Station and Westlake. All other stations will have regular service. 
Free bus shuttles will run between UW and Westlake. 
Link light rail expansions moving forward
Here's to a brighter future with the Northgate Link light rail extension opening in September, 2021 with extensions to the Eastside happening in 2023 and Lynwood and Federal Way in 2024.