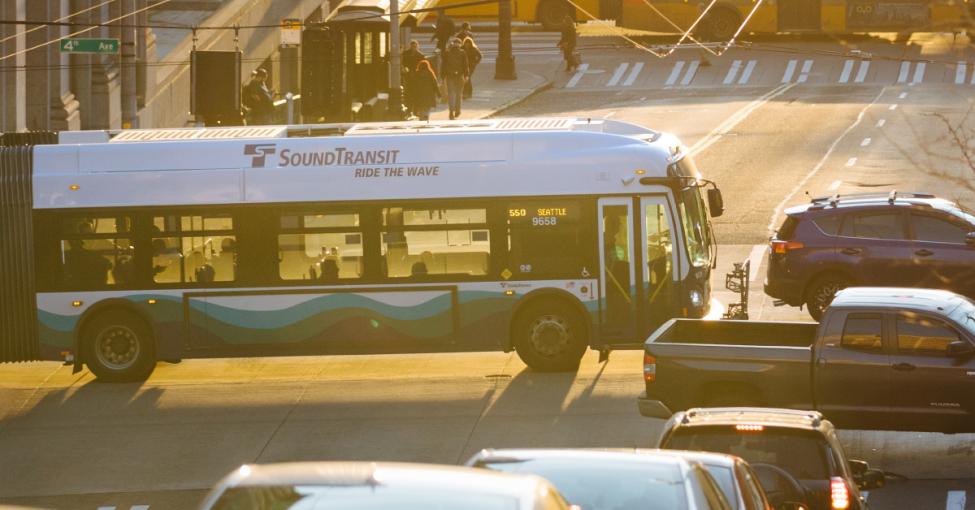 Underground Seattle transit goes rail only on March 23
Body
As we hope you have heard by now, on Saturday, March 23, Link light rail will be the only service at Westlake, University Street, Pioneer Square and International District/Chinatown stations. All former tunnel bus routes will move to surface streets.
Though our region built the "Downtown Seattle Transit Tunnel" for buses back in 1990, they did so planning for an eventual full conversion to rail.
As Link light rail became a reality in 2009, the region still needed interim bus capacity until the Link system could grow, so our region became the only system in the world where buses and trains shared underground stations.
Why do this now? Two reasons:
The Washington State Convention Center expansion project will soon remove the northbound access point for buses at the former Convention Place Station.

Sound Transit needs to update the older downtown Seattle stations to prepare for expansion to Northgate in 2021 and the opening of the Blue Line to the Eastside in 2023.
Sound Transit's busiest bus route, the 550, will serve Fourth Avenue and Pike Street inbound to Seattle, and serve Union Street and 2nd Avenue outbound to the Eastside.
Check here for maps and information about where the six King County Metro routes currently in the tunnel will stop.
Here's a map of the new 550 stops.
Frequent riders will note the last southbound stop will be at Second Avenue Extension and Yesler. That's about a five to seven minute walk (according to Google) from its current last stop at the Chinatown/International District Station.
That is the closest location that can accommodate the frequency of trips and the volume of riders that use the 550.
Mercer Island commuters will get a side benefit, as combined frequency will increase with routes 550 and 554 sharing 2nd Avenue stops at Seneca, Cherry and Yesler.
Sound Transit has worked closely with King County Metro and the City of Seattle to keep buses moving as quickly as possible through downtown by expanding the bus-only hours on Third Avenue, adding new curbside ORCA card readers and offering all-door bus boarding at key locations.
Check here for more information on the downtown improvements. 
Signage is now up at bus stops and Sound Transit Ambassador street teams will be at affected stops several days before and after the service change to help redirect riders.
The newly updated Downtown Accessibility Map shows how to get around the steep grades of downtown Seattle.
Improved Link reliability
With buses no longer sharing stations with trains, the announcement "the train is being held due to traffic ahead" will become a thing of the past.
Trains will be more evenly spaced, and will adhere more closely to their peak schedule of arriving every six minutes.
Link's on-time performance rate was just under 89 percent in January. We'll be keeping a close eye on those numbers for April.
What's next
These changes are part of the ongoing transition downtown as we prepare for major Link expansions giving commuters a fast, reliable alternative to sitting in traffic.
Over the next five years we will open 22 new stations and nearly triple our Link ridership from an average of about 76,000 riders on weekdays today to an estimated 227,000 daily weekday riders in 2024.
Here's what's opening and when:
2021: Three new stations will extend Link north to the University District, Roosevelt and Northgate. 
2023: Ten new stations will connect Overlake, Bellevue and Mercer Island to Seattle. The service will operate as the Blue Line, serving 19 stations between Overlake and Northgate. 
2024: Nine new stations will open as service expands to Lynnwood (four stations), Federal Way (three stations), and Downtown Redmond (two new stations). The Blue Line will expand to run from Downtown Redmond to Lynnwood.
Between now and then, we will have some growing pains.
Early next year we will essentially split the existing Link line in two as we build the track connection between International District/Chinatown Station and the future Blue Line. That will cause major disruptions for about three months.
Other changes on March 23
Besides the big changes downtown, Sound Transit is making minor changes to the follow routes on March 23.
Route 513 will extend to Seaway Transit Center and connect to Community Transit's Swift Green Line. The route will serve a new stop at Casino Road and Evergreen Way, which will replace the current stop at Evergreen Way and 79th Place. All other stops will remain the same.
 
Route 542 will add evening and weekend service between Redmond/Overlake and the University District to mitigate the June 2019 closure of the Montlake Freeway Station.
Route 580 will run fewer trips to Lakewood beginning March 25, focusing resources on the high-ridership segment between Puyallup Station and South Hill Park and Ride.
Check here for more details on these changes.