Project updates
Get the latest on this project in your inbox.
Overview
Northbound trains emerge from the Maple Leaf tunnel portal and rise to the elevated Northgate Station spanning Northeast 103rd Street. Station entrances are located on mall property near the Northgate Transit Center. Extending north of the station the turn-back tracks mark the start of the Lynnwood Link Extension, opening in 2024.
Subscribe to construction alerts today to receive updates about traffic impacts and new construction.
Web cam: Watch the construction of the Northgate Station.
Travel time: Northgate to Westlake - 14 minutes
Changes at the interim North Seattle Park & Ride
In order to accommodate construction of the Northgate station some existing park & ride stalls are relocated to nearby sites. Check for current parking locations, sign up for construction updates or look for updated information posted near transit center parking.
Art
A panel of art and design professionals and community representatives chose the artists creating permanent art at Northgate Station.
Artist Mary Ann Peters is creating a painting in glass for the clerestory on the passenger platform inspired by the nature and sounds of the Northgate area. In her words, Peters "uses multiple layers of information to build an image, leaving a track record of ideas and shifting visuals for the viewer to follow."
Cris Bruch's 23-foot-high sculpture on the plaza near the station's south entry incorporates his formal aesthetic into cloud-like forms suspended from arching branches, creating a landmark meeting place for train riders and neighbors from the nearby urban village being planned.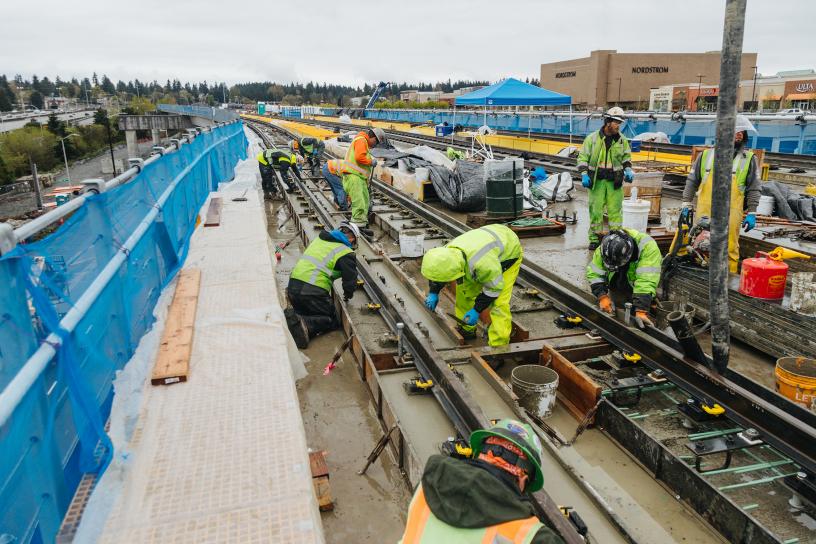 Workers install elevated guideway at Northgate Station.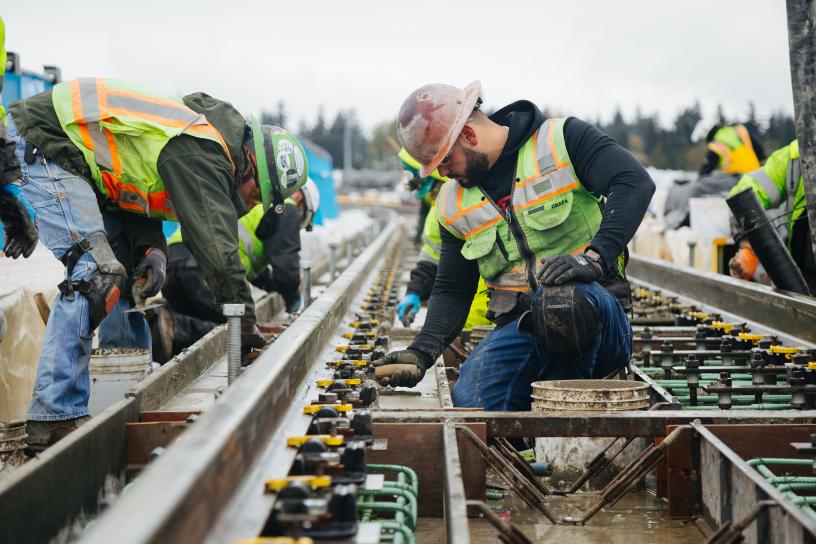 Installing the rails at Northgate.
Image

Image